Key Partners and Advisors
Cathleen Wu
Partner and Executive Coach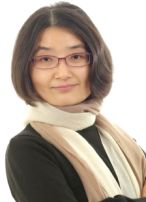 Cathleen Wu is a seasoned leadership development professional with 25 years' working experience including 3 years as a Leadership Coach, Facilitator and HR Consultant, 19 years in corporate HR, and 6 years in engineering after her university graduation.
Motivated by her passion for people and leadership development, Cathleen is keen to contribute to the success of her client organizations through her highly committed coaching, training and consulting interventions. She took great pride in transiting from a telecom engineer to an organizational engineer and is well respected by her clients for the difference she has made. She works with both MNCs and local companies and her partial client list includes Henkel, Mars, Roche, BMS, Microsoft, AstraZeneca, Standard Chartered, Ford, Colgate- Palmolive, Adidas, Dover, Shanghai Volkswagen, Linde, Amphenol, Pernod Ricard, Coach, Casappa, Dongfeng Auto, Baidu, SMIC, Infineum, Pirelli Tyre, Lanace Int'l and Opple Lighting.
Cathleen's corporate experience spans various industries including semiconductor, IT, electronics, FMCG and professional services and her former employers included MNCs, JVs and a private company with very different corporate cultures. She had worked with Citicorp, Emerson Electric, Philips, Huahong-NEC and Asia Business Corporation responsible for full range of HR functions to support diverse business needs.
Cathleen holds a Master degree of Business Administration from Shanghai Jiaotong University. She is an Associate Certified Coach (ACC) by the ICF and is working as a Coach Ambassador for ICF Shanghai Chapter. She is certified by a number of solid coaching certification programs, including the Marshall Goldsmith's Stakeholders Centred Coaching (SCC) program, the highly- acclaimed Executive Coach Certification Program (ECCP) by Coaching Australia and the Professional Coach Certification Program by International Coach Academy(ICA).
She is also a certified EQ-i2.0 and EQ 3602.0 coach by Multi-Health Systems (MHS) and a certified career development/transition instructor by American Career Development Institute (ACDI).
Cathleen is the co-author of"Strategic Change: Leadership Matters/战略性变革--领导力致胜" (published by经济科学出版社)in 2004.
Cathleen is based in Shanghai and speaks fluent Mandarin and English.