Transformational Executive Coach Certification Program(TECC)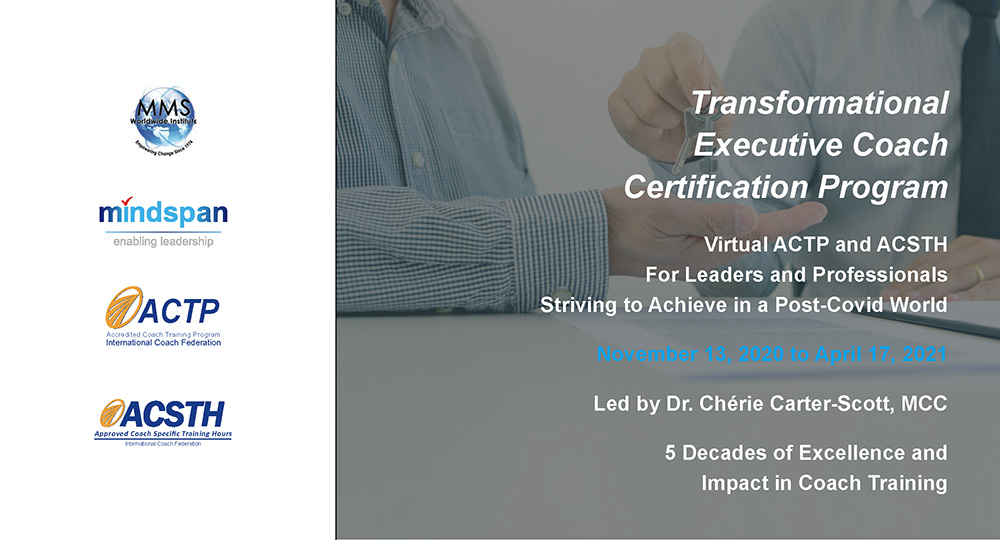 Why Coaching Certification
Globally executive and business coaching has soared to become a $10-billion industry thanks to waves of uncertainties and disruption precipitated by rapid development in technology, rise of millennium workforce, globalization and rise of China. With command-and-control management style giving way to highly participative and empowering leadership, and best-known-methods to agile and adaptive learning, coaching will continue to gain appeal because it works for a VUCA world, intensified only by the 2020 Covid pandemic: Coaching deals with employee engagement, growth, creativity and achievement by removing roadblocks to development and performance as no other development tool.
In this context of coaching skills being a new currency for the 21st century workforce and a coaching approach or culture far transcending the needs of executives, coaching has been rated the top desired skill for front-line managers (Chief Learning Officer Magazine), and the demand for trained coaches operating both internally and externally has fueled the need for coaching certification programs. In the US alone, there are more than 200 coach certification programs, which helps make becoming a certified coach one of the most popular career shifts in the last decade.
When executed properly, coaching provides greater intrinsic motivation
- in other words, inspiring the self-directed willingness to try new things and make new discoveries. According to McKinsey, when employees find greater intrinsic motivation, they are 32% more committed to their work and 46% more satisfied with their jobs.
5 Reasons for Attending
1. Transformative Intention and Design:Our TECC is designed to be transformative instead of transactional so we can confidently give clients a reason for why us and deliver a superior participant experience through combining research in adult learning, decades of experience in having helped thousands of successful leaders and teams, and embodiment of coaching principles we teach.
2. "Best-in-Class" Trainer Caliber and Experience: Our lead trainer, Dr. Chérie Carter-Scott, is one of the world's most-respected coaching pioneers, an ICF MCC and a NYT-bestselling author, who sort of invented coach training in 1974. Up till today she has led over 160 ACTP and ACSTH programs in North America, Europe and APAC.
3. Highest Standards and Superior Participant Value: Our TECC is an ACTP program, standing out for its longest industry history of excellence and value, which is attested by raving participant reviews as quoted in this flyer.
4. World-class Trainer Team: Our faculty include Chérie and 3 other MCCs and multiple PCCs, all amazing professionals, with over 150 years of combined experience with our mentor coaches operating in English, Dutch, German, French, Hungarian, Thai, Vietnamese and Chinese.
5. Ongoing Support to Growth and Partnership: We have carefully developed our brand that is accessible through our programs, websites, books and YouTube, and the famous MindSpan coach network serving 450+ global/local clients including 131 Fortune 500 companies.
"Learning to coach is like swimming upstream against the current. Our world is full of experts, authorities, advisors, and mentors. Learning to coach from the "inside out" means that you access your authentic self, transcend your ego, and become a partner in service to your clients. MMS Worldwide Institute offers the TECC course with elegance, scientific documentation, and support every step along the way. When you choose this course you choose the original, the oldest training for coaches, and the best!"
- Karel Bakkes, Partner Deloitte Southeast Asia
"The MMS coach training contains every element that I have been searching for. The power of awakening, the presence, the connection to one's inner wisdom, and the purpose of encouraging others to be brilliant in their own lives, closely resonate with me. I have experienced several transformational moments in my life, from an entrepreneur to a corporate employee, from a China country HR Head to a global HR leader, from partnering with business leaders to leading the global function for leadership development programs for Philips. But why had I just kept going and the satisfaction and joy did not fully land in me? What do I want out of life? With these doubts in mind, I signed up for the MMS coach training program. During the training I became more and more aware that I was changing from within. I have begun to embrace the unknown possibilities and built up more positive energy around me. Dr. Chérie is the most knowledgeable pacesetter in coaching and coach training. I am glad to know that she is going to lead the TECC from China/Asia. A learning program led by her will be a journey of faith, trust and love."
- Amelia Zhou, Former Global HR VP of Philips Domestic Appliances
Please click here for reading more program's details.