"I think we need the feminine qualities of leadership, which include attention to aesthetics and the environment, nurturing, affection, intuition and the qualities that make people feel safe and cared for."
— Deepak Chopra
Executive Presence for Impact (EPI) Program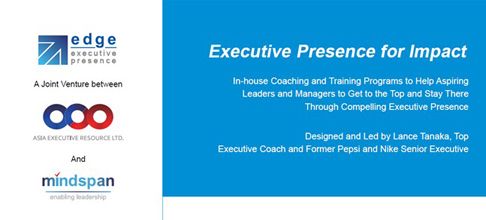 In a recent ICF survey on Coaching in Organizations, Executive Presence surprisingly comes out as the #2 reason for hiring an external coach. This is amazing because transitions, leadership and team development and the modification of leadership style have always been the top 3 areas for executive coaching for decades.
Why Executive Presence is becoming increasingly important for boardroom and corporate success? One of the key drivers is the rise of leadership over management in the era of knowledge-based economy and globalization. In today's business world, leadership is all about communication, building relationships and influencing without exercising one's positional power. As it has consistently proved, while functional expertise will always count, people skills or emotional intelligence make the biggest difference. As a modern-day proverb says so truthfully, "IQ gets you hired, EQ gets you promoted."
In responding to the increasing demand for Executive Presence coaching, Asia Executive Resource (AER) and MindSpan have formed Edge Executive Presence, a joint venture to focus on the EPI programs. Lance Tanaka, the Managing Director of AER, is a former Pepsi and Nike executive and an iconic role model for Executive Presence and after a successful executive coach in the last 10 years, together with Gary Wang, CEO of MindSpan, he aspires to make an impact on many more rising leaders and managers in the trench. The EPI program is a vehicle for the shared aspiration of Lance and Gary.
For the moment EPI is only offered to companies and depending on the levels of the targeted participants, the interventions can vary. The general guideline is for senior executives, 1:1 coaching is recommended, for mid-level managers, a blended approach combining group coaching and workshops is more ideal.
We have a coach team qualified by Lance and they can support clients in multiple locations Including Shanghai, Beijing, Hong Kong and Singapore.
Program Overview:
In our new world of empowered leadership, for leaders and managers to stay optimally effective in their job and deliver the unrivaled client and leadership experience, they need to understand the power of perception and win through compelling Executive Presence, one of the core pillars of Soft Power. While intelligence, drive and connections do matter a lot in corporate success, Executive Presence deeply rooted in personal authenticity and communication skills however makes the biggest difference. Those who look, speak, think and act like true leaders stay ahead by carefully managing their reputation and earning their credibility in every contact they make, both internally and externally.
Designed and led by Lance Tanaka, former Pepsi and Nike country or regional president and one of the leading executive coaches in Asia with more than 11,000 coaching hours accumulated over the last 10 years supporting over 1,500 executives and managers in top global firms, our Executive Presence for Impact (EPI) program aims to help driven leaders to become and stay successful through creating greater buy-in, alignment and engagement.
Combining 1:1 coaching, small-group workshops and personal critiques depending on the desired outcomes and the level and experience of who are supported, our EPI offerings are crafted and delivered with the following impact principles in mind:
Highly focused on precise behaviors for impact
Accountability through measurement
Easy-to-implement scheduling
Involve key stakeholders for reinforcement
Customized for each client
Click here to check MindSpan Public Programs in 2018.
If you have any questions about our EPI workshop or other coaching programs, please feel free to contact us at (86-21) 5059 8969-801 or e-mail to kerry.zhao@mindspan.cn. With the exception of public holidays, we will respond to any of your inquiries or concerns within 24 hours.