Key Partners and Advisors
Liam Cassidy
Senior Partner and Consultant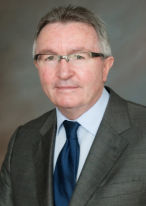 From a tiny village of 200 people in remote North West of Ireland, Liam Cassidy entered the military straight from high school and spent 4 years there, during which time he completed two tours of duty with the United Nations Peacekeeping forces in Cyprus and Lebanon. Apart from military duties, he was trained as a Logistician, and worked on the Supply Chains which sustained the United Nations forces in the Middle East during periods of political and violent turbulence. This was his first introduction to Supply Chains, and would provide a solid foundation for much of his work later in his career.
He left the military in 1972 and joined General Motors in London as a Management Trainee. Over 18 years he rose through the ranks, initially training as an Industrial Engineer and working on many aspects of operations management, including front-line production and materials management and import/export activities. He was promoted to middle management level in 1980, initially as Quality Control Manager, and later heading up production depts. During those years he studied at night and obtained college qualifications in Operations Management and Professional Management, and finally completed his post-grad in Education from Sheffield University.
In 1984 he was promoted to Head of Manufacturing Operations at the Irish GM facility, where he introduced Lean Practices for the first time. His was also the first site in GM to introduce the Lean Warehouse Supermarket, making it a benchmark site for the rest of the organization. These principles can now be found in GM sites all over the world.
In 1986, he was awarded a 6-month European Scholarship to study Japanese Manufacturing Techniques, the only person selected to represent his country. This further enhanced his manufacturing skills and after completion, he became an internal consultant for GM, as they developed their sites across Europe.
In 1991 he joined the Oral B division of Gillette as Head of Operations for their Irish facility. A traditional plant that was struggling to compete with sister factories and 3rd parties in India, Mexico and China, within 2 years he led a turnaround that made it a Lean Benchmark site for the rest of Gillette. His work at this time earned him an international award from the Institute of Logistics, and a paper he wrote about this project was awarded "Best Paper" at their conference in 1996.
In 2000 he was requested to go to Iowa City in the USA to lead the largest Toothbrush factory in the world. This factory had grown uncompetitive and Gillette told him to prepare it "for a likely closure announcement within 2 years". Instead, realizing its strategic significance because of its location (it was also a distribution centre for Gillette products and 60% of everything produced went to the US market) he led a Lean Turnaround and once again made it a benchmark site for Gillette. Results were spectacular: Productivity increased by 52%, quality levels became the best in the organization. Delivery Reliability, previously in the low 90's increased to 98%. Cost comparisons with low-cost locations became neutral or positive. This attracted a lot of media attention as the USA was losing a lot of manufacturing to Mexico and China. This turnaround proved that by doing the right things, manufacturing could also thrive in a high cost environment. A Case History of this project was written by The Lean Enterprise Institute, the premier institute of its kind in the world, and can be found on its on – line library. This Case History was also referred to in a Washington journal in a plea to provide more support to US manufacturing.
In 2005 Procter & Gamble acquired Gillette, and he spent 2 years working on integration activities as well as running the Irish operations. Once this project was complete he was asked to go to Shanghai to head up their troubled Braun manufacturing operations and Supply Chain. This plant had a lot of quality issues, supply problems, communications issues with headquarters and high turnover of staff. Once again, he applied his Lean Turnaround formula, achieving terrific productivity and quality improvements. Delivery Reliability increased from 88 to 99%. Staff turnover decreased from 15 to 7%. Within 2 years it was declared "Lean Benchmark Site" for PG/Gillette in Asia.
All of the sites at which he worked, are still thriving today, and remain among the cutting-edge to be found in the world.
In 2009, Liam left PG Gillette to found his own Lean Consultancy company, providing support to organizations concerned for their future. Since then, he has led highly successful projects in Europe and Asia, including China. In particular, he is very proud of a successful turnaround in Jinan, where in 2 years they helped transform a previous state-owned manufacturing operation that was considered the worst-performing in its German-owned global operations, into the very best. In those 2 years, productivity has increased by over 50%. Quality and Delivery Reliability are among the very best in the organization. Their internal China Supply Chain has been improved from 18-20 days from order receipt to delivery, to just 5 days. This project is not yet complete and improvements are still being made.
Liam splits his time in Dublin, Ireland and Shanghai.